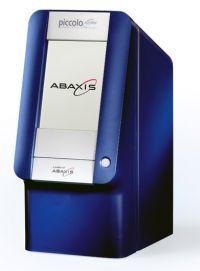 Abaxis Piccolo Xpress Chemistry Analyzer
Manufacturer : Abaxis
Model : Piccolo Xpress
Price : Call (800) 414-7169 for Price


Abaxis Piccolo Xpress Chemistry Analyzer Highlights

Care providers simply pipette the sample into the disc, insert the disc into the analyzer and results are printed or transferred to an LIS/EMR in about 12 minutes. No operator intervention is required.

The Piccolo Xpress employs on-board continuous intelligent Quality Control (iQC) to monitor the analyzer, reagent reactions and sample to ensure the highest quality and accuracy in results.

Weight: 11 Lbs.

Dimensions: 13(H) x6(W) x8(D) inches.